Before I finish my Turkey day story from the previous post I'm going to skip ahead to today. Please bear with me...
I got my second (and last) eBay payment this morning, and so I added another $25 to the COMC account, mostly because there were lots of low-end cards I was still watching, and because I was about 20 cards short of hitting the magic 100. For every 100 cards you have shipped in a month, COMC rewards you with a $5 cash back/shipping credit. In addition to that, every 20 cards purchased during the Black Friday sale earns a 'scratch-off' card, which may yield even more store credit (I won $10 last year.)
Before I tackled the low-end list I added something to my cart that had been on my watch list for well over a year. Whenever I buy a card I've been watching that long I say to myself/the card "Time to come home." And so it was...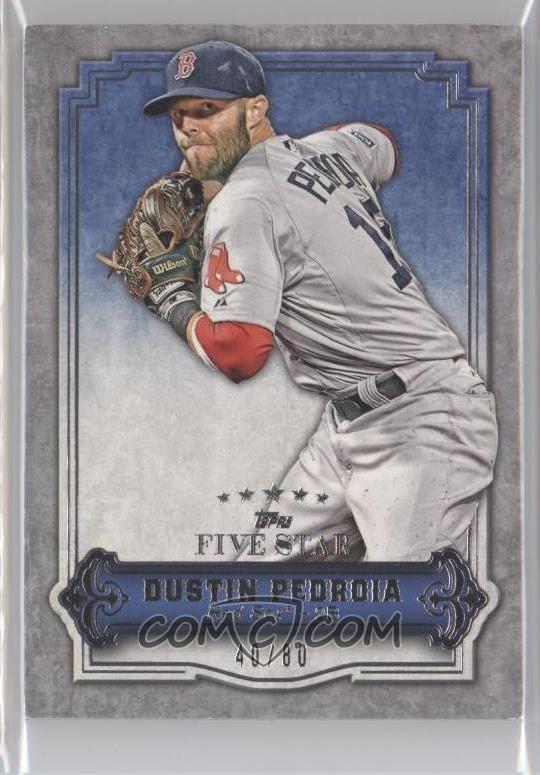 Dustin Pedroia 2012 Topps Five Star #d/80 ($9.25)
Technically this is a base card, and I loathe spending more than $5 on any base - no matter how shiny or low numbered. But I didn't want to let it sit there for another year. I had to bring it home.
After that, it was back to the bargain bin. Red Sox and Devils were well-represented: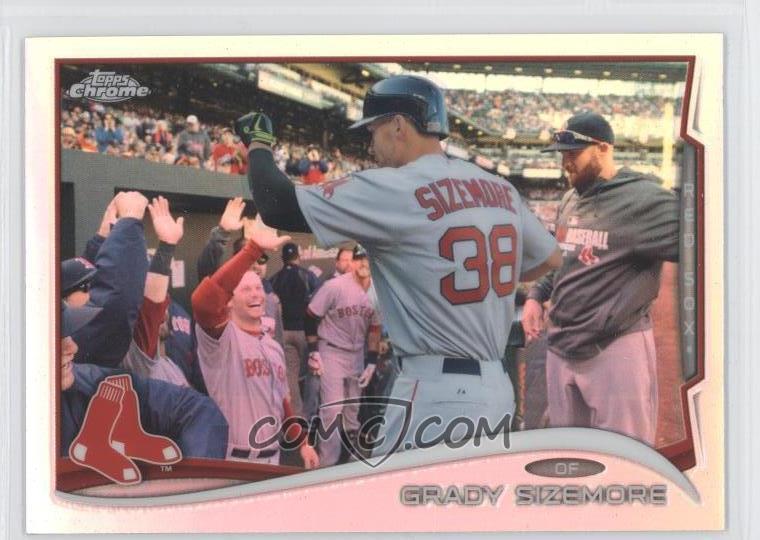 Grady Sizemore 2014 Topps Chrome Refractor ($0.32)
Grady was one of my favorite players when he starred for the Cleveland Indians about a decade ago. I was happy the Red Sox picked him up in 2014, though he was a shell of his former self and didn't stick with Boston for long.
Rick Porcello 2015 Topps Update Retail Throwback Variation ($0.52)
Dustin Pedroia 2014 Topps Opening Day Stars ($0.82)
Porcello is a Jersey guy and a newly-minted Cy Young award winner. I like Justin Verlander and I would have been fine if he won the award, but the backlash against Porcello/BBWAA voters was ridiculous. Everyone from angry Tigers fans to the sabermetric statheads to Kate Upton need to chill out over this (though Kate's tweet was hilarious!)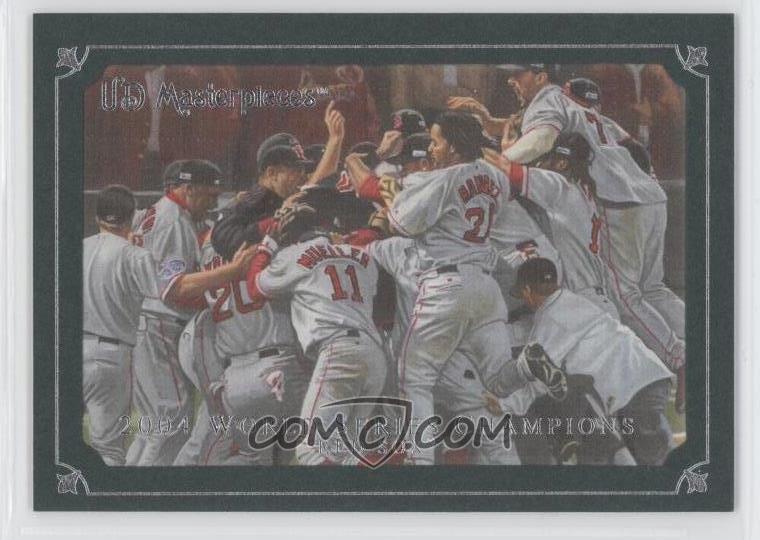 Red Sox team 2007 UD Masterpieces Windsor Green Frame ($0.45)
This was a bit of an impulse buy. I prefer team celebration cards that don't have Rudy Guiliani photo-shopped into them.
It's still early in the 2016-17 hockey card season (Upper Deck still has yet to release last year's The Cup) so there's a very small selection of Devils rookies available - and no Taylor Hall cards yet. I was able to pick up a few cheapies, thanks to ePack:
Adam Henrique 2015-16 O-Pee-Chee Platinum Retro ($0.33)
& 2015-16 Upper Deck Premier base #d/399 ($0.90

)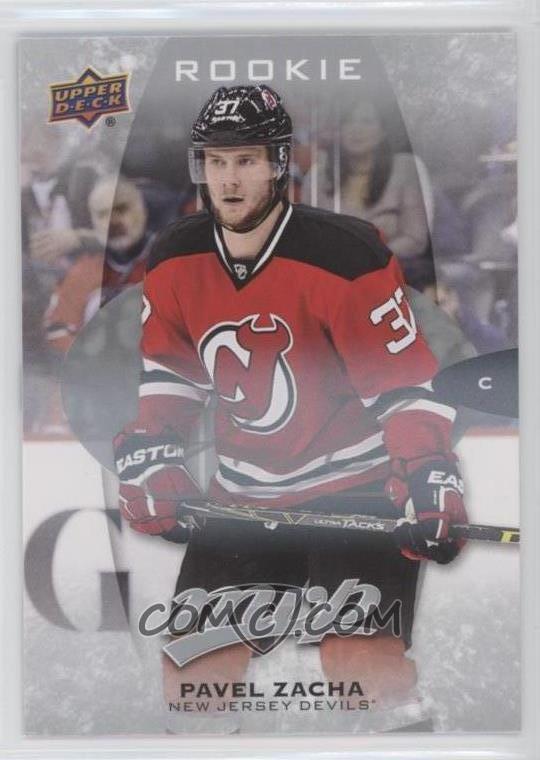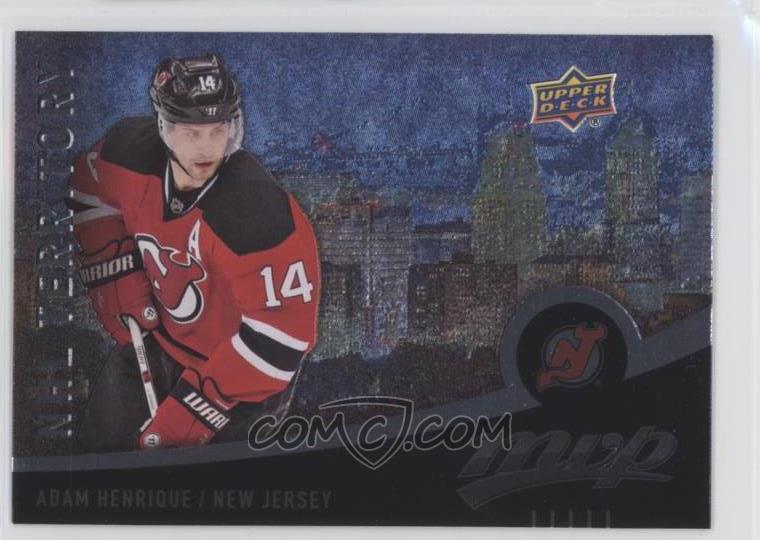 Pavel Zacha 2016-17 Upper Deck MVP Silver Script ($0.77)
Adam

H

enrique 2015-16 Upper Deck MVP Territories ($0.35)
"Rico" isn't a star, but he's a fan favorite in Jersey and his cards are dirt cheap on COMC. I'm not a fan of UD MVP (their green parallels are icky - and the site is flooded with them) but I had to get a Zacha rookie - and an Upper Deck YG hasn't hit the site yet.
I bought a few random things for under a buck, mostly to get my card count up to 100. These two came with the Henrique OPC Platinum:
Sean Monahan 2015-16 SP Authentic 95-96 SP Retro design ($0.38)
Blake Bortles 2015 Topps Chrome Refractor ($0.42)
Upper Deck's retro designs are some of my favorite inserts, especially the 92-93 Fleer Ultra and 93-94 SP. My meager football collection is very low on Jacksonville Jaguars; the only Bortles I have is a college card from 2014 Upper Deck. I was hoping for a blue refractor (color matches are kind of a side PC of mine) but they were out of my price range.
One more vintage (well, two more...)
Gordon Jones 1959 Topps ($0.72)
This was my cheapest vintage purchase ever on COMC, and the third of three 1959 Topps cards in this batch. Perhaps I should scrap my '56 Topps project and start this instead. I can't possibly collect both sets.
And that was it for the $25, except...
Earlier in the week I was trying to decide between three different cards as my "plan B" after the Jack Eichel Young Guns RC and Ted Williams bat card sold. I had just under $90 to spend on Thanksgiving afternoon, but no "big piece" or "big fish" or whatever you prefer.
Then, as I sat in my in-laws' den, scrolling through "recently added" cards on my daughter's tablet...this appeared before my eyes: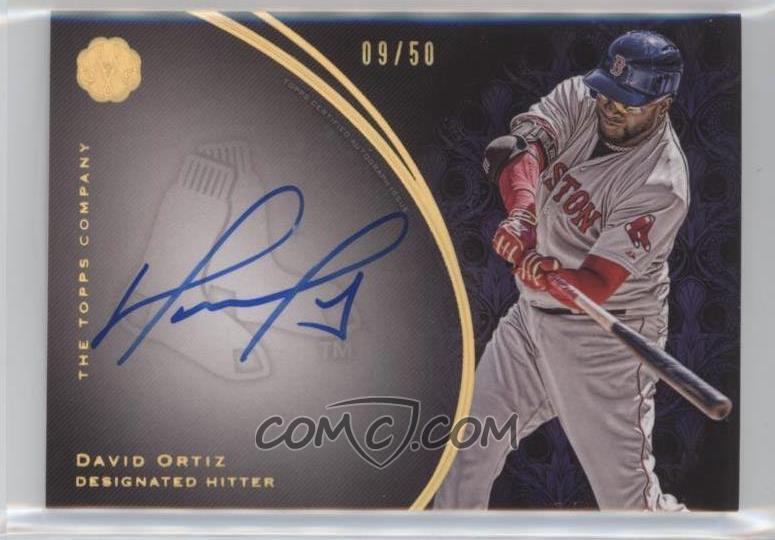 David Ortiz 2016 Topps The Mint Franchise Autographs Purple #d/50 ($47.50)
If you read my earlier blog post about the David Ortiz patch/auto that got away, you know I was determined not to make the same mistake twice. I tossed it in the cart and bought it faster than you can say "Big Papi". I'm thankful for high-speed internet, good timing, and the seller who posted this gem.
That left me with a little over $40..not quite enough to afford my second and third choice cards. I tried making best offers, but no one would budge. This card was my number two pick:
Mookie Betts 2014 Bowman Chrome Prospects Blue Refractor #d/250
My $25 offer was rejected, and my $30 offer was countered with an offer of $33.25, a miserly $1.20 off the original (sale) price. I had to sleep on it - which was easy after the turkey dinner. Do I accept the counteroffer, take home the Mookie, and call it a day? Or do I pass (largely on principle) and settle for my #3 pick - or my #4 pick, this 1964 Topps Willie Mays: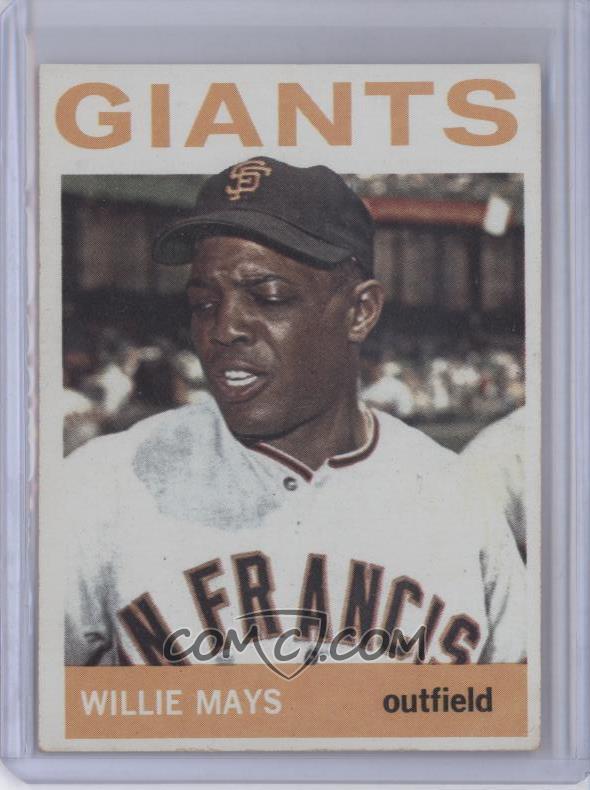 I did not buy the Mays. Someone else got a steal at $28.28 (or less) because I swallowed hard and took the Betts. No regrets though.
My third choice was this 1971-72 O-Pee-Chee Jacques Plante:
I had purchased a Bobby Hull PSA 6 from this set earlier this year during COMC's spring cleaning sale, and this Plante would have made a nice bookend. Once I bought the Betts there was no room in the budget for this beauty.
I had about $10 left from the $25 I added to the site this morning, including $0.70 in COMC sales. This afternoon I had a thought: are there any ungraded OPC Plante cards available?
Indeed there was, and I had just enough in the budget to buy one:
Jacques Plante 1971-72 O-Pee-Chee ($10.02)
This will be my first Plante card; all of his Canadiens cards are way out of my budget. And it capped off an exhausting but ultimately rewarding week of COMC shopping. I might have another purchase or two left in me, depending on how my sales go. But once I reached the 100 card goal I requested shipping on my order. ETA: December 19, which will be cutting it close for my Secret Santa and Wes to receive their cards.
How was your Black Friday shopping experience? Did you purchase anything on COMC, or another sports card website? Let me know in the comments!
Hope you all had a Happy Thanksgiving!