I planned on publishing part two of my autograph show & tell, but there are still some autos I have to dig out of my closet, and I've had three trades come in recently so I'll get to those first.
Justin G, author of the blog The Hopeful Chase, wrote a trading post a few weeks back in hopes of unloading some surplus hockey cards. I offered to send him some Lightning cards but he said there was no need (this time!) Which means that this technically wasn't a trade...but here are the cards:
The Neal Broten completes my Pro Set set
Greg, author of the blog The Collective Mind, sent me some Devils cards as well. I gave him a list of sets I was light on, and he came through with a couple dozen Devils and some cards for my Women on Cards collection.
Unfortunately I forgot to scan them up before adding them to my binders...
...so I thought I'd scan them in the binders.
The most recent blogger to hit my mailbox was Oscar, author of the aptly-named blog All Tradebait, All The Time. Oscar asked for some Dodgers from my 2017 Topps Heritage box break, and sent me some Red Sox in return:
Thanks for the trades, fellas! I'm always eager to add new cards to my collection, and it's been tough to buy packs and singles lately since I'm trying hard to trim the family budget. To that end, I've been doing as many COMC challenges as I can - usually while watching playoff hockey (and basketball) games.
As I've mentioned before, I'm a sucker for low-hanging fruit. Cheap Young Guns and low-numbered parallels are tough to pass up, especially when a COMC seller discounts their port at 50% or more. My plan for this year is to rack up as many cards as I can, wait until Black Friday to have them shipped to me, and then collect the cashback bonus/scratch-off tickets along with my accumulated haul.
But every time I read a post from someone who has used challenge credit on significant purchases it makes me wonder what sort of free swag I could earn if I just lay off the cheapies.
Three Young Guns for $1.01...

hard to say no to that

.
My first goal was to see how much COMC credit I could earn in a week, which yielded this:

1934 Goudey Hugh(ie) Critz #17 ($7.25)
Then I decided to save all my challenge credit until the end of the month. But every time I did a round of data entry, my watch list got longer. I knew it was only a matter of time before I shattered the ice and bought something: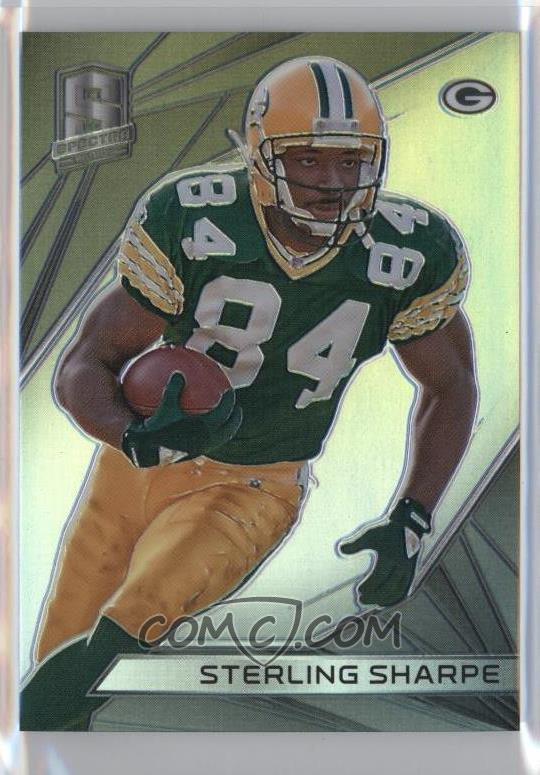 2015 Panini Spectra Sterling Sharpe #d/99 ($0.85)
Sterling was my favorite football player for the first half of the '90's. He was a big reason why I chose the Packers as my favorite football team;

Reggie White was another (this was before

Brett Favre became an NFL legend.) My mom bought me a replica Sharpe jersey for Christmas one year and I still have it, even though the painted numbers and letters have cracked and creased almost beyond recognition.
Unfortunately Sharpe suffered a career-ending neck injury in 1994, just two years short of the Packers' Super Bowl XXXI victory and possibly the Hall of Fame. (His more flamboyant brother Shannon got to experience both.)
I used to have a pretty decent Sterling Sharpe collection but it's been dormant for over a decade. Couldn't resist adding this thick base card for under a buck, and it still leaves me with enough COMC credit to pursue a HOFer for my 1956 Topps baseball set.
I'll try to find the rest of my HOFer autos and write/respond to blog comments this weekend. Hope you're all having a great weekend. Enjoy the first round playoff games!
~