What a season. What a series. The Red Sox are world champions again, for the fourth time in fifteen years.
This is the same franchise that sold Babe Ruth, that couldn't get Ted Williams a title. That iconic Carlton Fisk homer came in a series the Sox lost. And then there was Bucky bleeping Dent... Bill Buckner... Aaron Boone...
It's 4 to 1 Boston since 2000
This century is starting off a lot like the last one did. The Red Sox have now won four of the last fifteen World Series. Boston won five of the first fifteen World Series played from 1903 to 1918. Then they didn't win again for 86 years.
So for those of you who are (understandably) sick of seeing the Sox win..there's always the chance that this '18 title will be the last of our lifetime.
I doubt this is of any consolation to the Dodger fans out there... but this was the hardest one for me to enjoy. In 2004, it was all about breaking the curse. In 2007 it was about proving '04 was no fluke. I liked the Rockies and Todd Helton (former New Haven Raven) but I had no problem rooting against the still-new franchise. In 2013 Boston played the Cardinals (again) - a flagship franchise I had a lot of respect for - but one that had just celebrated two seasons prior.
The Dodgers though..I like the Dodgers a lot. They were the first World Series champion of my baseball-loving life. They were my favorite aunt's favorite team.
I was cheering for them last year. In that post I mentioned a picture I took at a photography studio in Cooperstown, posing as a 'lil Dodger. Here it is:

It's nice to see Dodger Stadium host two straight World Series, and it's great that Vin Scully and Tommy Lasorda and Sandy Koufax are still around and cheering for the boys in blue.
L.A. has always had great pitching, from Koufax and Drysdale to Fernando Valenzuela, Orel Hershiser, Clayton Kershaw, and now Walker Buehler. And they've been finding hidden gems like Max Muncy and Chris Taylor to plug in around Cody Bellinger and Justin Turner. Nearly all of their starters can play multiple positions. Dave Roberts has been a wizard with that roster.
— Only In Boston (@OnlyInBOS) October 25, 2018
Win or lose, the Red Sox-Dodgers series would have been memorable for that reunion alone.
Yes, Yasiel Piug is a weirdo and Manny Machado is kind of a jackass (Henry pointed out that Manny made the last out of the WS. Poetic justice I suppose.)
Which leads me to another reason I enjoyed this season less, despite the 108 regular season wins and the playoff wins over the hated Yankees and defending champion Astros...
The one guy who was injured all year..the one guy who didn't contribute..was my guy.
Dustin Pedroia is my favorite Red Sox player and has been for a decade. Some Boston fans may be souring on him, but not me. I'll always admire his heart, his hustle, his max-effort swing and second base play. The guy's a grinder. He's the last link to the 2007 team, and one of the last two links to the 2013 team.

(Then-rookie Xander Bogaerts is the other.)
Pedey and David Ortiz are the only Sox this century with three rings. Ortiz did it all in '13; he carried that team to the title and was pretty much the only player coming through in the clutch. Pedroia got one hit in '18. Total. All year.
This will be the crown jewel of a career for some potential Hall of Fame players. Mookie Betts. David Price. Craig Kimbrel. Chris Sale. Possibly Ian Kinsler and Xander Bogaerts.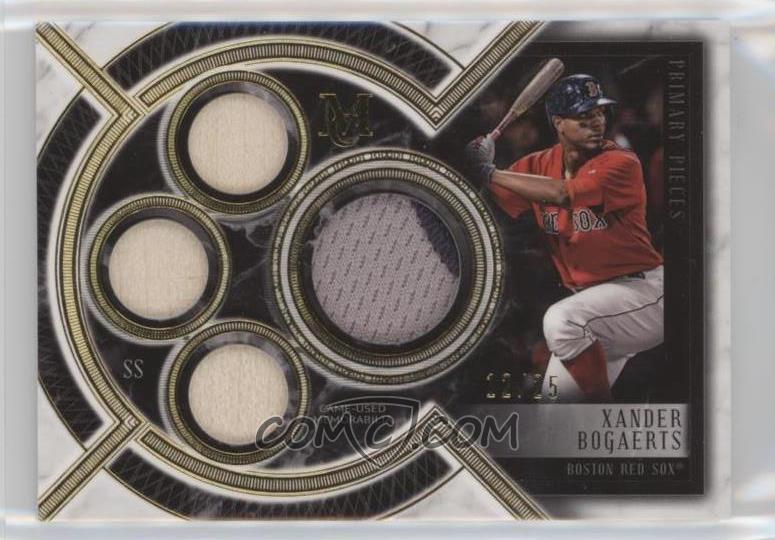 My latest COMC purchase. I also picked up a 1933 Goudey card...of a Dodger.
And now that they have the ring, it's time to get paid. Kimbrel and Kinsler are free agents, and Price can join them if he opts out. He's said he won't ..but that was before he did what the Sox paid him to do.
Sale, Bogaerts, and Rick Porcello are unsigned beyond next year. J.D. Martinez can opt out after the '19 season; he's as good as gone. Hope you enjoyed this group, Sox fans.
Kershaw can opt out of his Dodgers contract this winter. I hope he doesn't - or if he does, I hope it's only so he can sign a long-term deal to stay in L.A.
Sky-high salaries are one thing. But these opt-out clauses are ridiculous. Basically, if you do what you're supposed to, you get to leave and/or make more money. If you suck, the opposite should be true...right?
Think this will work on David and J.D.? Yeah...neither do I.
~