While we wait for Bryce Harper to sign a record-breaking contract (coming off a season in which he was worth 1.3 WAR) I thought it would be fun to look at some other great Right Fielders.
It's been a while since I've done one of these statistical analysis posts; I planned to write about first basemen but nothing jumped out at me

and then my internet connection was nearly non-existent for most of the summer.
Also I've been buying (and selling) a few cards of right fielders lately, so I'll sneak some COMC purchases in here as well.
Let's start with this - there are more Hall of Famers representing right field than any position other than pitcher. And yet there are still a handful both in and out of the Hall that are often overlooked.
Not this guy though. The great Roberto Clemente is as beloved as any baseball icon. Statistically (based on career WAR) he's the sixth-best RF ever. However, due to his tragic and premature death after the 1972 season, Clemente played at least three fewer seasons than the five players ranked above him - including the slightly underrated Mel Ott and the very underrated Frank Robinson.
In 1975 Frank Robinson was named player-manager of the Indians, becoming the first African-American to manage a team. Frank was also the second black manager in the majors, since no other men of color had been hired before he became the Giants' skipper in 1981.
The average career WAR total for the 25 Hall of Famers who primarily played right field is 72.7. Eleven players met or exceeded this threshold, and ten of them are enshrined in Cooperstown.
Clemente isn't the only great right fielder to play for

PITTSBURGH

. Paul Waner is tenth all-time in RF WAR and third at the position in career hits with 3,152 - nine more than Tony Gwynn.
Dave Winfield is fifth on the career hits list for RFs. His 3,110 over 22 seasons falls just short of the 3,141 collected by the man who succeeded him in San Diego. Dave's career WAR is 64.2, lower than three players at his position who are not enshrined in Cooperstown.
Joe Carter is 17th all-time in RBI by a right fielder, and collected as many extra base hits as Joe DiMaggio. That, and his unforgettable home run in the 1993 World Series, is enough to earn him consideration on this year's Veteran's Committee ballot. However he rarely walked, and his slash line of .259/.306/.464 only merits a career WAR of 19.6.
No single statistic tells the whole story

(and I use WAR mostly for convenience than anything else)

but that's alarmingly low for a player of Joe's stature. George Springer could pass him with a solid 2019 season

(same for Yasiel Puig.)
A quick note on some of the cards in this post before I get into a statistical comparison: I don't consider myself a 'flipper' and try to avoid the practice of profiting off other collectors. But with Black Friday approaching and these cards being listed at tantalizingly low prices, I was able to earn some extra cash towards future COMC purchases. The Clemente, Waner, Carter, and Winfield cards were all bought with flipping in mind - although I'd be happy to keep any that don't sell.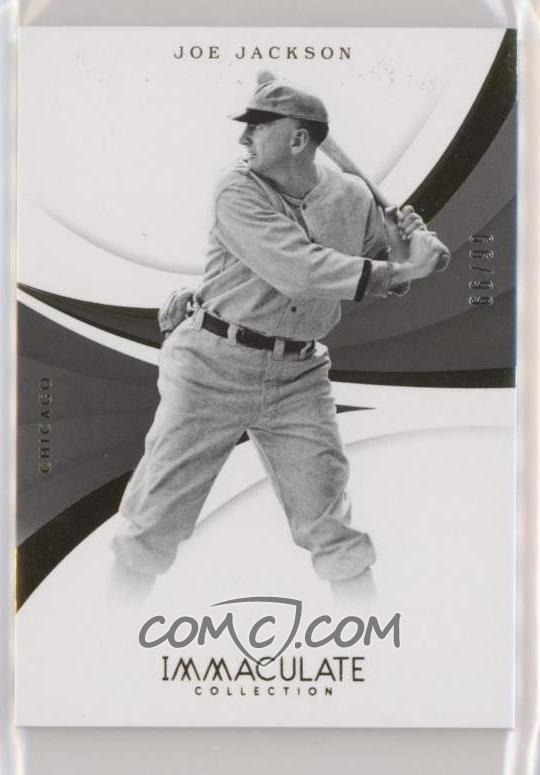 such is the case with Shoeless Joe here
The Joe Carter card in particular was a surprising find at $5.25; Thunder Clap inserts are rare - and
Gold Medallion parallels are extremely so. I re-sold it within an hour for a nice profit, but I wasn't greedy. A Juan Gonzalez from the same set sold for over $66 on eBay; I asked for less than half that amount for Carter.
Now let's get back to comparing underrated right fielders...
I go back and forth on Larry Walker every year. His career WAR of 72.7 is equal to the average of every Hall of Fame right fielder. Buuut he played in Colorado and his home/road splits aren't great. He won seven Gold Gloves, three Silver Sluggers, and an MVP award. Buuut he was always injured, rarely played more than 140 games in a season, and only has 2,160 career hits (24 fewer than Joe Carter.)
Apparently the BBWAA feels the same way; Walker's Hall of Fame vote totals have been all over the place: 20.3% on his first try, 10.2% on his fourth. He had a big jump on the last ballot, to 34.1% - his highest total yet. Buuut he's still a long way from getting in, and he's running out of time.
It appears likely that Larry will be the latest in a long line of RFs who didn't quite make the cut for one reason or another

(
not counting Joe Jackson, Sammy Sosa, or Gary Sheffield. We know why they're not in.)
Here's a list of ten other right fielders - five in the HOF and five out. Which side does Walker belong on?
Klein's slugging % blew me away – that's quite a high average for someone with only 300 career bombs - but then I
dug
a little deeper. It seems his home/road splits are as severe as Walker's – if not more so – and his production dropped after a 1933 trade from the Phillies to the Cubs. Park factors aren't just a thin air thing.
If you had a golden ticket to Cooperstown and you could only select one right fielder for enshrinement, who would you select and why? Are there additional RFs you would like to see in the HOF? Let me know in comments!
~