Most of you have probably long since abandoned Beckett price guides as the best way of determining the 'value' of your cards. I've done the same. It's been at least three years since I paid $10 for a Beckett price guide and over a year since I've read one. (Blowout Cards included a free Beckett Baseball guide with my 2017 Topps Heritage order.)
I do feel like I'm collecting in the dark at times, wondering if I'm overpaying for this or that. It helps to look at eBay sales and COMC prices, but those are two specific markets. I don't want to be that guy with my phone open telling a dealer "You're asking a dollar for this card, but it sold for 15 cents online.."
Most of the time, I pay what I'm comfortable paying for a card, based on how much I like it or need it for my set. I might check recent sales as a guide, but more often than not I go with my gut. I've found that my purchasing regrets are often on the retail side anyhow.
But..what about selling cards? If you're on a budget like I am, selling your surplus paste boards is the only way to raise funds for high-end cards. Collecting the 1956 Topps baseball set would not be possible for me without sacrificing a significant part of my collection - Upper Deck hockey cards.
I've mentioned before that I already sold five years of Young Guns sets. A couple weeks ago I listed the last one I plan to sell: 2014-15 Upper Deck.
Last year, when I sold all the others, I decided to hold onto this one in hopes that one more more of the players would have a breakout season. And sure enough, that's what happened. William Karlsson scored 43 goals for the Vegas Golden Knights and Andrei Vasilevskiy backstopped the Tampa Bay Lightning to a top-seed in the Atlantic division*.
*They're still battling Boston for #1 overall
As with the other sets, I listed my auction at what I assumed was a fair price. During one of our fifteen snowstorms, an eBay bidder met my minimum ask of $300. I was happy. I now had some cash to spend on 1956 Topps cards, which is good because I still need some big names.
The bidder paid, I shipped, he was happy. All good...right? Well, last week I was in a Barnes & Noble with my girls, and while they browsed for books I thumbed through the Beckett price guides. I feel a little guilty not buying anything, as if I'm contributing to the decline of retail.. but that's another story.
Having just sold my 2014-15 Upper Deck Young Guns I decided to look up prices for the top rookies. I was absolutely floored. Four of them were listed at $100 or more.
Can you guess which ones?
I wasn't upset, mind you. I've made regrettable decisions before, and learned to live with them (teaser for tomorrow's post.) But these prices just didn't make any sense.
Flyers defenseman Shayne...G (I'm not attempting to spell his last name even though it's right there)

was valued at $50. Seems a bit high, but okay. Vasilevskiy was $60 I think. Jonathan Drouin, who still has not become the star he was projected to be, was one of the $100 cards.
Whuut?
Remember that Beckett segment "C-note"? It was a fun way to see what collectors would buy if they were gifted a hundred dollar bill for their collection. Who the heck would spend $100 on a Drouin YG and nothing else?
David Pastrnak's RC is another $100 card. He's significantly better than Drouin, a year younger, and he also plays for an Original Six franchise. But Drouin had more hype around him, so... they're equal?
I've got no issue with Johnny Gaudreau's RC being the top card in the set. At least it was when I started putting it together. "Johnny Hockey" was second in the NHL in points when I prepared to list the set for sale. I expected his RC to increase in value from the $60 it was listed at the last time I checked, and it did. But it's not the highest-value card in the set...
Leon Draisaitl had his breakout season last year, riding shotgun with Connor McDavid and helping the Oilers reach the postseason. Leon has been nearly as good this year, on a lousy Edmonton team. His totals over the past two seasons are comparable to Gaudreau and Pastrnak. So why is his YG listed $25 higher than those guys (and Drouin?)
It makes no sense to me. These are short-printed rookie cards inserted six to a box. They're not serial numbered and they're not autographed. Yet these prices look like they belong on SP Authentic Future Watch RCs.
Speaking of which...
In my last post I mentioned that the Connor McDavid YG is now listed at $500 in the latest Beckett issue. Do you know what else is listed at $500?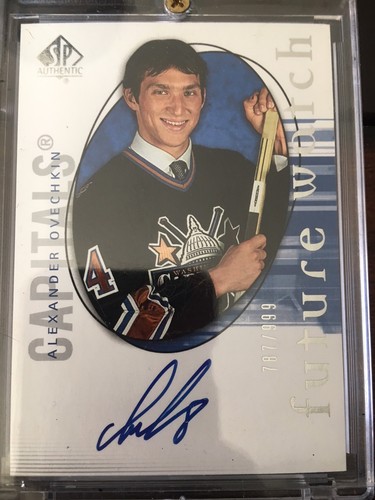 An autographed, serial numbered rookie card of 600+ goal scorer Alex Ovechkin.
Whuut?
Call me biased, but I don't see how this Ovechkin RC could possibly be equivalent to a card you can pull out of a $20 blaster. SP Authentic boxes are twice the price of UD. And you get one Future Watch auto. One. The odds of pulling a top RC out of SPA are incredibly slim. Plus, ePack isn't devaluing SPA singles like they are with Upper Deck RCs.
Whatever algorithms Beckett uses to determine a card's value are laughably obsolete. And it's a shame, because they were a big part of my collecting life. But if I'm being honest, I don't really need them. I've shifted my collecting habits to vintage baseball and low-end stuff. I've stopped prospecting, and I've sold the last YG set I'm willing to part with.
At the moment I've got COMC fatigue, but they fit my collection like a glove. Low-numbered shiny stuff, relics, autos, quality vintage..all of it is available on COMC, and for less than the cost of a blaster. Imagine what you can get for $100 on that site!
Whatever you spend your "C-note" on, I guarantee it will be better than one of these Young Guns.
~