Earlier this week I finally sold the last "high-end" card in my COMC inventory - this Nolan Ryan coin & stamp card from a jumbo box of 2015 Topps I bought earlier this year:
I hadn't sold anything in a while, and I had my eye on a Dustin Pedroia autographed card, so I accepted the initial offer of about $24. The Pedroia was $30, but I tried making a $20 offer..which was countered at $25.25. I countered at $23..the seller countered at $24.25.
I really didn't want to lose out on the Pedey auto over a stinkin' quarter, so I had to accept. But first I had to do some COMC challenges. Once that was out of the way, I had my prize:
Dustin Pedroia 2016 Topps The Mint - Franchise Autographs ($24.25)
Cool trade, eh? And I had some spare change to spend on the site as a bonus. Thanks to COMC's connection to Upper Deck ePack there are truckloads of hockey singles available for 30-50 cents; I figured 75 cents would buy me two decent cards for my PC.
And with O-Pee-Chee Platinum Hockey hitting the site this week, I tried to be patient and grab some nice shiny chrome-type cards. But the prices were too good to pass up; this Alex Ovechkin logo crest insert was $0.35 when I added it to my cart: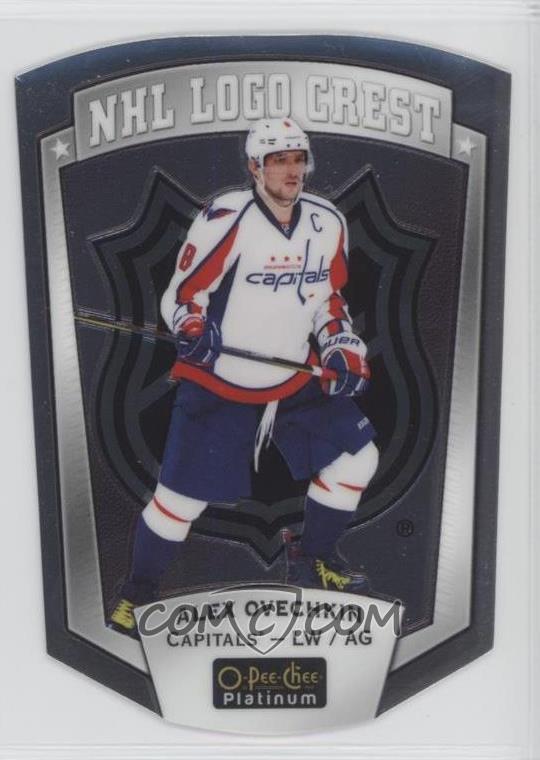 ..and $0.30 an hour later.
So I wasted a (free) nickel. So what? Well, it got me thinking about some of the other hockey card purchases I've made this year - specifically from product that later ended up on ePack. This Patrik Elias 1000 Point Club jersey was $9.47 when I bought it in April:
There's one on COMC right now for $3.99 :/
This Adam Henrique SP Game Used Frameworks jersey cost me $5.67 two weeks ago:
It would cost me $3.25 today.
I could go on, but you get the point. It's hard to know when to pull the trigger on a deal, and when to wait out the market. I've had my share of successes, of course. Even with constant flow of inventory from ePack to COMC I've managed to find some good deals:
now: $45 (last copy on COMC)
Time will tell what happens to the price of 2016-17 OPC Platinum cards as they continue to funnel onto COMC, but you can bet I'll be chipping away at Challenges to purchase some singles. And I'll be keeping my eyes out for more deals like this one:
Pekka Rinne 2016-17 OPC Platinum Retro Gold Rainbow #d/149 ($0.49)
...while trying not to stress over the singles I bought before Upper Deck ePack-ed them out:
Pavel Zacha 2016-17 OPC Platinum Marquee Rookies Red Prism #d/199 ($3.85)
Have you had any good(or bad) experiences with ePack? Do you purchase packs straight from the site, or wait until the singles hit COMC? Let me know in comments.
Have a great weekend everyone!


~